While most people associate Greece with holidays that involve relaxing and doing very little, you might be surprised to learn that Greece can also be a great place for adventure. There are a huge variety of activity holidays available for people of all ages to enjoy. Here we look at five of the best ways that you can have an adventure in Greece.
Cycling
There are a couple of areas in Greece where it is possible to have an adventure on two wheels, whether you are travelling with adults or children and whether you are an experienced cyclist or a beginner. In the Rethymno region you will find a large number of dedicated cycle routes, and there are a number of day tours available for various levels of experience and which are suitable for both adults and children. Alternatively, the Peloponnese region offers a great cycling experience, particularly in the autumn and spring.
Windsurfing
As you would expect, sports that involve the water are very popular in Greece, and windsurfing is no exception. The resort of Paros in the Cyclades is the perfect place for people looking to have adventure holidays in Greece. The resort has played host to windsurfing championships, so it is ideal for experienced surfers. Alternatively, in the south-west of the island of Rhodes, there are a number of schools offering windsurfing lessons for beginners.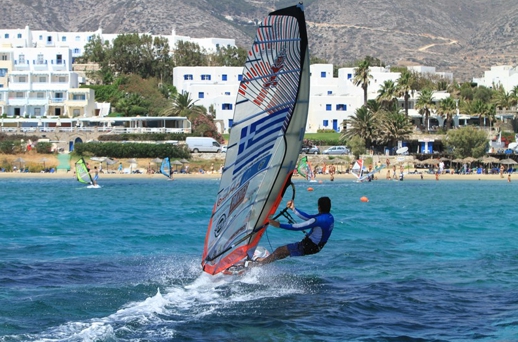 Sailing and Kayaking
Sailing offers a great way to have adventure holidays in Greece as well as explore some of the scenery and life that Greece and its islands have to offer. This is an ideal activity for families, as on holidays such as the RYA Competent Crew course, children can get involved with everything that is involved with sailing a boat. If you have sailing experience, then chartering your own boat is also a good way to explore Greece. Sea kayaking is a great way to explore Greece but only suitable for adults and older children. Kayaking enables you to see places you wouldn't otherwise see, and if you take a kayaking tour there will also be the opportunity for other water sports such as snorkelling and swimming.
Climbing
If you like your holidays to be adrenaline-fueled, then climbing in Greece might be the thing for you. The island of Kálymnos is popular with climbers and abseilers, with the main climbing season taking place in the autumn and spring. Alternatively, the Thessaly region, near Mount Olympus, offers a number of outdoor and adventure activities such as climbing, canyoning and mountain biking.
Bird Watching
For those who prefer their adventures to be rather more sedate, areas of northern Greece offer great bird-watching opportunities with the chance to observe species such as ducks, herons, eagles and pelicans.
Hopefully, this has inspired you to visit Greece if you fancy some adventure and activity. There is so much to see and do that you will need to take more than one trip to fit it all in.